For Bag End I rehaired him with green and yellow, favourite colours for Hobbits to wear, and curled the hair in tight ringlets before separating them to give that distinctive Hobbit curly hair. For Erebor I rehaired him in two shades of dark blue (After Midnight and Pacific Ocean), and streaks of Starlight, which mimic Thorin's sexy silver streaks and also mithril.
I'm particularly proud of the writing on their none-display sides, which is in the style of the writing on Thorin's map, and of the mark that Gandalf left on Bilbo's door on Bag End's foot.
(
May the hair on your toes never fall out!
Collapse
)
A pair of baby pony customs to represent Bag End and Erebor- The Lonely Mountain, from the book and film "The Hobbit".
Current Mood:

bouncy

Current Music:

Mumford & Sons - The Cave
(
Read more...
Collapse
)
I used gold craft wire for the bangles and chiffon for his "skirt". The piece between his back legs is free hanging and can move.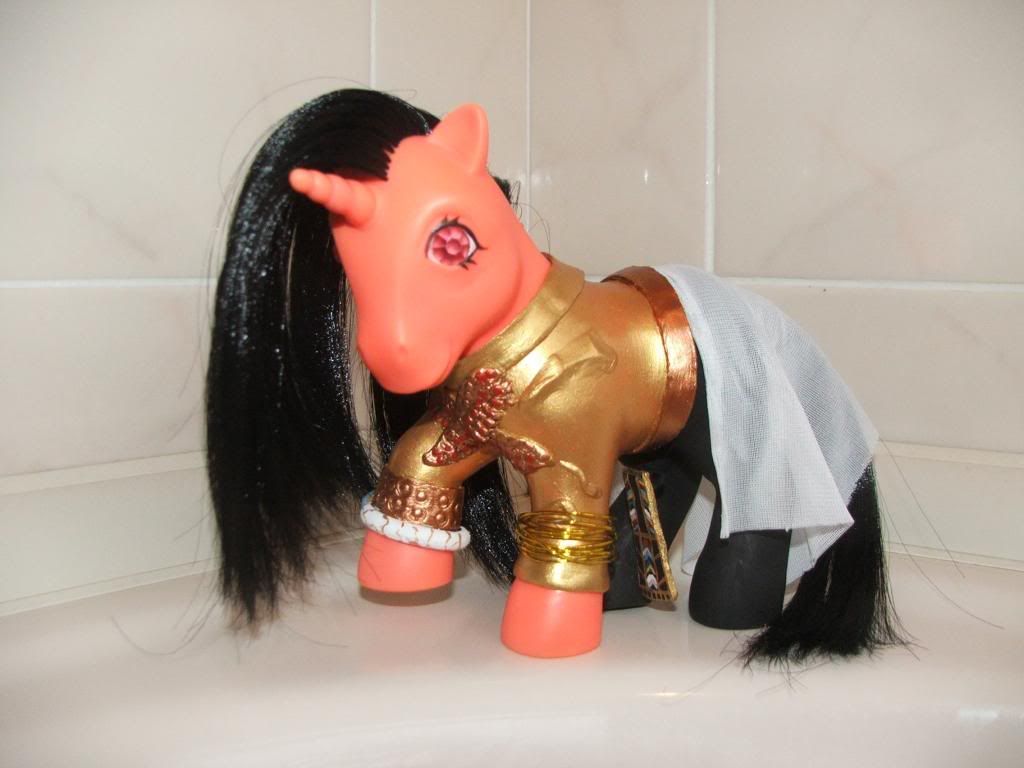 (
Read more...
Collapse
)
This pony custom is based on the costume Michael Jackson wore for the music video for "Remember the Time". Which looks like this:
Current Mood:

content

Current Music:

Manic Street Preachers - Track 04
Current Mood:

jubilant

Current Music:

Sean Patrick Flanery - I Can Fly
Current Music:

Rihanna - Shut Up and Drive
Beth Cavener Stichter
. Her work is beautiful, but beware, some of may be disturbing for some...
(
Read more...
Collapse
)
This pony is called Bunny. She was painted on a Peachy bait - this style pony is ideal for painting customs on it seems! The painting is inspired by a sculpture by
Current Mood:

creative

Current Music:

Steve Earle - Feel Alright